Babies conceived by women above 35 years stand the risk of Down syndrome – Kaduna Therapist
Women who conceive pregnancies after the age of 35 years stand the risk of being delivered of babies with Down syndrome, a speech therapist, Maryam Ibrahim-Maifada, has said.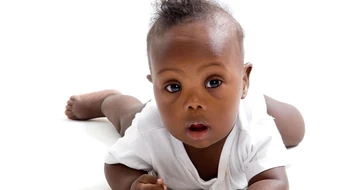 "The older the mother, the higher the risk of having a baby with Down syndrome,'' Ibrahim-Maifada told the News Agency of Nigeria (NAN) in Kaduna on Friday.
"Down syndrome is a genetic disorder. Most babies are born with 23 pairs of chromosomes within each cell for a total of 46. Majority of babies with Down syndrome are born with an extra chromosome,'' she said.
She noted that babies born with Down syndrome faced physical and mental challenges throughout life.
They typically have distinctive body and facial features that set them apart. They are more likely to develop slowly, and are more at risk of some medical conditions, she said.
Ibrahim-Maifada listed some of the medical conditions as delays in speech and language development, attention problems, sleep difficulties, stubbornness and tantrums, delays in recognition, and delayed toilet training.
She also listed physical signs of Down syndrome to include short, stocky physical size; with a short neck, poor muscle tone, flattened facial features, especially the bridge of the nose, and small ears.
Others are almond-shaped eyes that slant upward, small hands and feet, single deep crease across the center of the palm.
She listed other medical conditions associated with Down syndrome to include heart problems, thyroid abnormalities, auditory and vision problems and low fertility rate males.
"About 50 per cent of women with Down syndrome are able to bear children. The possibility of risk of their children having the condition is between 35 per cent and 50 per cent,'' Ibrahim-Maifada.
Brymo and manager, Lanre Lawal, parts way after 8 years
Lanre Lawal, the long time manager of popular Nigerian singer, Brymo, has stated that he has parted ways with the artiste. The talent manager in an Instagram post thanked the singer for being a good friend.
In his farewell message, Lawal who has managed Brymo for about eight years stated that it was a mutual decision to move on to the next stage of their professional journeys individually.
The statement read, "In a statement titled, 'Notice of disengagement between Bail Music Company and Brymo,' Lawal wrote, "This is to inform the general public that The Bail Music Company, under the leadership of Lanre Lawal, is no longer responsible for the management of Olawale Oloforo, popularly known as Brymo.
"Over the last eight years as Brymo's manager, we have built formidable relationships and partnerships with top music stakeholders in and outside Nigeria. Together, we have assisted in amplifying the strength and talents of the singer/songwriters (Brymo) through the smooth development and execution of projects that have grown the brand internationally. However, like every healthy relationship, there is a mutual decision to move on to the next stage of our professional journeys individually.
"We are proud of the years we worked together and find nothing more satisfying than to see Brymo reach the heights of his success."
This development is coming shortly after the singer claimed in October that legendary Nigerian singer, 2baba, accused him of sleeping with his wife. Also, Brymo alleged that 2baba sent some thugs to beat him up.
Based on the allegation, the management of 2baba, Now Muzik, slammed Brymo with a lawsuit for the damning accusations he made towards his colleague, Innocent Idibia, better known as 2Baba, in a series of posts on his official Twitter page.
President Buhari approves N21 billion for 14-bed presidential clinic
President Muhammadu Buhari has approved the construction of a 14-bed presidential clinic at the State House.
The construction of the clinic, awarded to Julius Berger Nigeria Limited for N21.9bn, will commence Monday, according to the permanent secretary, State House, Umar Tijjani.
Tijjani disclosed this Thursday during budget defence before the Senate Committee on Federal Character and Inter-governmental Affairs.
This is despite the fact that the N21.9 billion proposed for the project in the 2022 budget is still under consideration at the National Assembly.
Tijjani said the project would be completed in December 2022.
He said the presidential clinic would occupy a total area of 2700 square meters and would be equipped with a laboratory, healing garden, pharmacy and x-ray facility in the clinic.
He said, "The project was conceived in 2012 by the previous administration. It was estimated to cost about N21bn and the facility contains 14-bed space with a total area of 2,700 square meters. There will be underground and first floor, operating theatres, executive suite, VIP isolation rooms, and six-bed isolation room.
"Most of the preliminary work has been concluded. Mr President has approved the project. We've gone to Bureau of Public Procurement to get Certificate of No Objection."
He said the clinic would also be opened to other African leaders for medical treatment.
Some members of the committee, chaired by Senator Danjuma La'ah, commended the initiative of the federal government for the project.
La'ah said the committee members would, in December 2021, go to the site for oversight.
LASUTH performs first laser surgery on kidney stones
The Lagos State University Teaching Hospital says it has performed its first laser surgery to remove kidney stones.
Stephen Ikuerowo, a professor of urology at LASUTH, said the laser lithotripsy treatment would save patients the pain of opening up their upper urinary tract during surgery.
Lithotripsy is a treatment using ultrasound shock waves to break kidney stones into smaller particles that the body can pass out.
On Thursday, Mr Ikuerowo disclosed this in a statement issued by Oluwaseyi Adewale, Head, Public Affairs Department of LASUTH, in Lagos.
LASUTH is the first public hospital to deploy laser treatment for kidney stones in Lagos and arguably in Nigeria, according to the statement.
He added that the hospital now had a full upper tract endoscopic and laser facility that Lagos residents and others could access.
On the cost of the treatment, Mr Ikuerowo noted that the cost of accessing the treatment in hospitals outside Nigeria would take a huge chunk from patients' money, but that accessing such care at LASUTH would be half the cost of getting the treatment in private hospitals in the country.
Also, Oluwaseun Akinola, consultant urologist at LASUTH, said the breakthrough would translate to access to more affordable healthcare, fewer scars and a faster recovery rate for patients.
"The present management of LASUTH, under the leadership of the Chief Medical Director, Prof. Adetokunbo Fabamwo, has now made it possible, as the first surgery was carried out today by a complete team of local health professionals," said Mr Akinola. "This mode of treatment will allow patients to leave for home in two days."
The urologist advised the public to ensure adequate care by making it a habit to drink at least three litres of water daily, noting that 90 per cent of kidney stone cases were caused by dehydration.
He also advised a reduction in salt intake and maintaining a healthy lifestyle while recommending a visit to the hospital immediately if they experienced abnormal pain.
Mr Akinola stressed that kidney stones left untreated could develop into serious diseases that might cause total kidney collapse and eventual loss.